A skin disorder characterized by dark, velvety pigmentation in large folds of the skin (armpits, groin folds, and neck) and, in some cases, indurations in the area of ​​the lesions.
Causes and risk factors
Insulin resistance. The hormone insulin, produced by the pancreas, allows the body to process sugar. Insulin resistance ultimately causes type 2 diabetes.
Hormonal disorders: ovarian cysts, decreased thyroid or adrenal function.
Certain medications and supplements: High doses of niacin, birth control pills, prednisolone, and other corticosteroids.
Cancers - for example, lymphoma, the growth of malignant tumors of internal organs such as the stomach, colon, or liver.
Obesity. The development of the disease is directly related to an increase in body mass index.
The presence of acanthosis black is more often noted in people with increased body weight and type 2 diabetes. The disease can be associated with malignant tumors of the gastrointestinal tract. Acanthosis nigricans are equally common in both men and women.
Symptoms
The appearance of dark age spots on characteristic areas of the body (armpits, neck, groin);
Unpleasant skin odor and itching may occur.
Skin changes are the only signs of acanthosis nigricans. They usually appear slowly, except in cases where the development of pathology is associated with the intake of drugs and food supplements.
Diagnostics
The diagnosis is made by a dermatologist during an in-person appointment based on patient complaints, anamnestic data and a characteristic clinical picture. In some cases, methods such as:
Dermatoscopy,
Skin biopsy.
If the cause of the rash is not clear, the doctor prescribes a comprehensive clinical and laboratory examination, including a general and biochemical blood test, a study of blood glucose levels, an ultrasound examination of internal organs. The list of required analyzes can be expanded according to individual indications.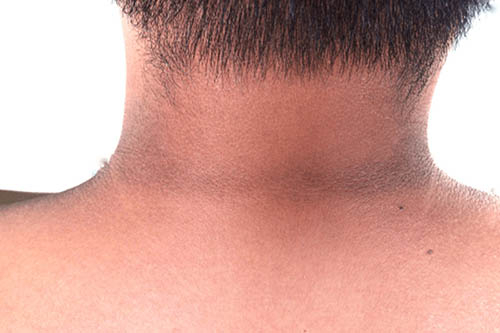 Treatment
Treatment is aimed at eliminating the cause of the appearance of the pigment. Most often, measures to combat acanthosis nigricans include:
Weight control, weight loss;
Cancellation of medications and food supplements;
In case of detection of oncological disease - its effective treatment.
As a symptomatic treatment, the dermatologist uses mainly external therapy: compound creams with a brightening and emollient effect. In some cases, the use of retinoic acid preparations, antibiotics is indicated. A good cosmetic effect is provided by the use of a laser in the foci of rashes.